Music Review (Tamil): Thozha
Music Composer: Gopi Sundar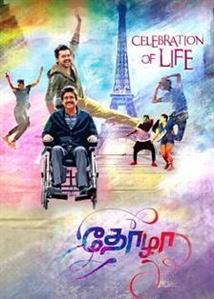 Baby Odathe is a short peppy lively song with entertaining brass arrangements dominated by trumpet and drums. The tune is a cakewalk for Shankar Mahadevan and he delivers the song with ease while propping up the average tune. Puthitha, breezy Harris Jayaraj'ish tune handled deftly by ever reliable Karthik and he exudes charms with his vocals throughout the song. Gopi Sundar's graceful arrangement with live drums, clap sounds and lovely spasmodic violin solo in the interlude make this song worthwhile listen. Madan Karky's lyrics flow seamlessly along with the tune.Eiffel Mele folksy predictable tune made interesting by the nifty touches in the orchestration like undermined percussion, nadhaswaram bit along with mandolin interspersed throughout the song. Ranjith and Suchitra sounds apt in this listenable carefree song and lyrics sound discordant with the folk base.
Enaduyire rides mainly on the soulful rendition by Vijay Prakash and Gopi Sundar chip in with the minimal arrangements using mellow guitar strums and keys. The composer creates a tantamount effect with a far minimal setting with ample support from the lead singer. Thozha has typical soft rock base and Gopi spruce up the song with his arrangements while Anirudh and Haricharan did a fantastic job in rendering this predictable song. Gopi's splendid usage of violin amidst the cushy drums and guitar strums being the highlight in an otherwise passable song. Door No, Geetha Madhuri's vocals and arrangements bear an undeniable Telugu flavour and the tune is tried and tested umpteen number of times in multiple Telugu item songs. Gopi didn't add much flavour to the song and the song is adequately foot tapping which may make an impact along with visuals. Nagarum has trademark Gopi Sundar elements throughout the song with rousing violin usage, guitar strums and hummable tune which is made lively by cheerful arrangements. Karthik lends his support for the beautiful melody with his fab vocals as always.
Verdict: Gopi Sundar plays safe for his big ticket outing with lively cheerful casual songs and the tunes just flow along without major glitches.
My rating: 7.5/10
Pick of the Album: Puthitha, Nagarum, Enaduyire
You can listen to the songs in Youtube.
P.S: Edited versions of the review is available in Moviecrow.