Music Review (Hindi) : Haider
Composer : Vishal Bharadwaj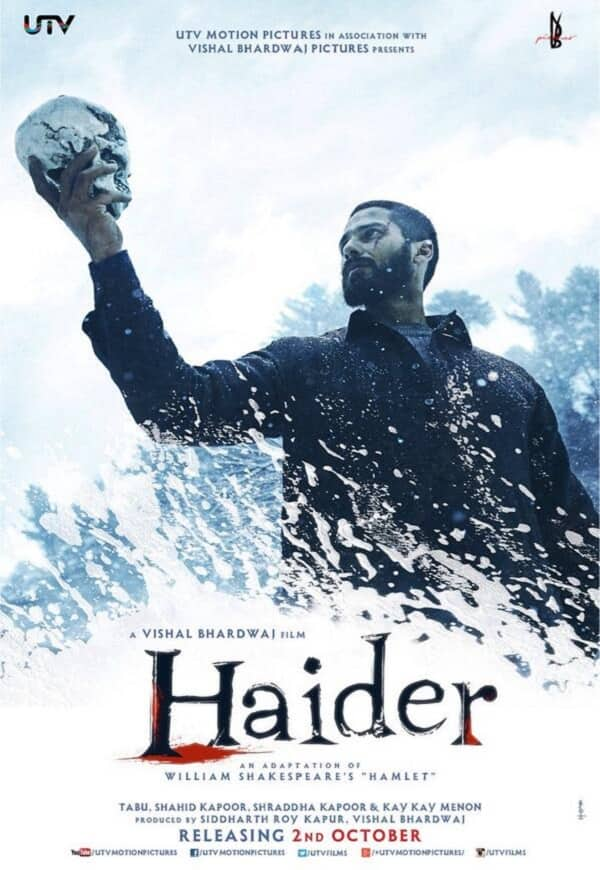 Bismil, two minute video footage already created waves among the fans for its interesting depiction of movie story in a song and also waiting for the full version. Composer uses a Rubab, native kashmiri instrument as a main hook accompanied by percussions and strings gives the wonderful effect. Sukhwinder excels in singing, which undergoes many radical changes culminates with Jhelum Jhelum Laal Laal hua. Gulzar deserves a special mention for wonderfully worded lyrics. Another version of the song Ek aur Bismil is considerably better than the original version for its arabic fused instrumentation (love to know the instruments used) though the main tune and singer retained as in original one.However mood of the song seems to be less serious compared to the original song.
Aao na, rock tune rides mainly on the Vishal Dadlani sprightly rendition about attaining eternal sleep and Bharadwaj's wonderful guitar cum drums combination. So Jao, uses the dredging sound throughout the song as background and impressive guitar. Composer creates the dark mood of the song with the line of singers Bashir Lone, Bashir Bhawani, Muzamil Bhawani and Mayukh Sarkar. Composer ropes Suresh wadkar and Shraddha kapoor for the laid back melody,Do Jahaan with minimal guitar and piano chords nevertheless tune drabs too much and fails to clasp the listener. Aaj Ke Naam, is as usual Rekha Baradwaj flaunts her prowess in the Ghazal backed melody. Though she is impeccable in her rendition, this too fizzle as Do Jahaan.
Another Dark song, Jhelum, serene singing by composer itself. Vishal arranges the song with string instruments, especially violin and santoor gives the thrilling experience in addition to the river sounds apt to the title of the song.Vishal Bharadwaj gave the remaining two tracks to Arijith Singh, current favourite of every composer and this man pulls off the song in his own way. Khul kabhi To instantly likeable melody with enticing string instruments,piano and minimal beats. Ghulab mein Rang bhare traverses mainly on the soulful rendition by Arijith and Vishal kept the orchestration to minimum allowing Arijith to take the spotlight.
Verdict: Overall, Haider soundtrack is worth
for a wait and it adds to the another best soundtrack in Vishal Bharadwaj - Gulzar combo's repertoire.
My Rating:8.5/10
Pick of the Album: Bismil (both versions), Jhelum, Aao Na, Khul Kabhi To